All of our products are rigorously field tested and we proudly guarantee against defects in materials and craftsmanship.
Ratings & Reviews
Customer Reviews
Write a Review
Ask a Question
Filter Reviews:
Ruffwear
pack
something
dogs
retriever
stitching
water
zippers
stream crossings
load
01/16/2020
Cassidy P.
United States
Can't wait for summer!
This pack fits my dog Deegan almost perfectly! I initially ordered a Medium and the chest and actual pack itself are the right size, but the straps I had to adjust all the way to the end to the largest setting. I had the brush guard on too at the time and knew this wasn't going to work. I was able to return both products and then ordered the L/XL, and the pack was WAY too big. It was hanging well below Deegan's elbow which would prevent him from walking let alone run on the trails. I was able to return the L/XL and then order the Medium again, no brush guard this time. I think it will be okay as it is the winter months here in VT so maybe Deegan just has some winter weight and it will fit fine in the spring/Summer! Either way this product is beautifully made and I experience led great customer service. Most of Deegan's outdoor gear is Ruffwear and we haven't been disappointed yet!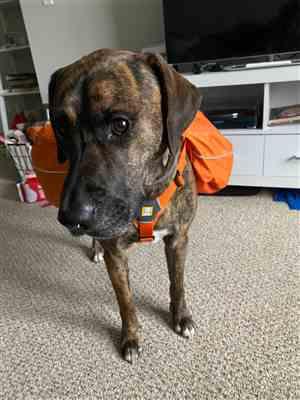 01/13/2020
Beryl I.
United States
Nice size
Great once I figured out how to put the brush guard on and easily get the pack on Buddy. He is very patient.
12/27/2019
David T.
United States
Difficult size in bags
My dog liked it fine, but the bags are large enough that you would not want to keep the pack on the dog once a day of hiking is done, and are unable to remove the bags without removing the harness as well (as you can with the even larger pack). Close to perfect, but lacks the flexibility we need on the trail.
12/26/2019
Michele T.
United States
Great dog pack
I purchased two large, orange Ruff Wear Approach Packs for two dogs to carry (2) 2-liter collapsable bottles of water to the dog park. Both dogs love it when I put the Packs over their head and snap the two buckles under the side flap. Instantly they switch into "working dog" mode and proudly carry the packs for a block to the dog park. This has been an excellent tool and they look really sharp, they seem comfortable too. Thank you Ruff Wear!!
10/30/2019
Kacie L.
United States