Be bold, explore the cold. This winter dog gear is designed to enhance your cold-weather endeavors with your dog whether the forecast calls for snow, rain, or frigid temps.
GEAR GUIDE
Which winter dog jacket is right for you?
To keep exploring no matter what winter throws down, Ruffwear designs jackets with a range of warmth and weather protection, all crafted from a dog's perspective. Discover which style is right for your dog's next adventure.
Explore »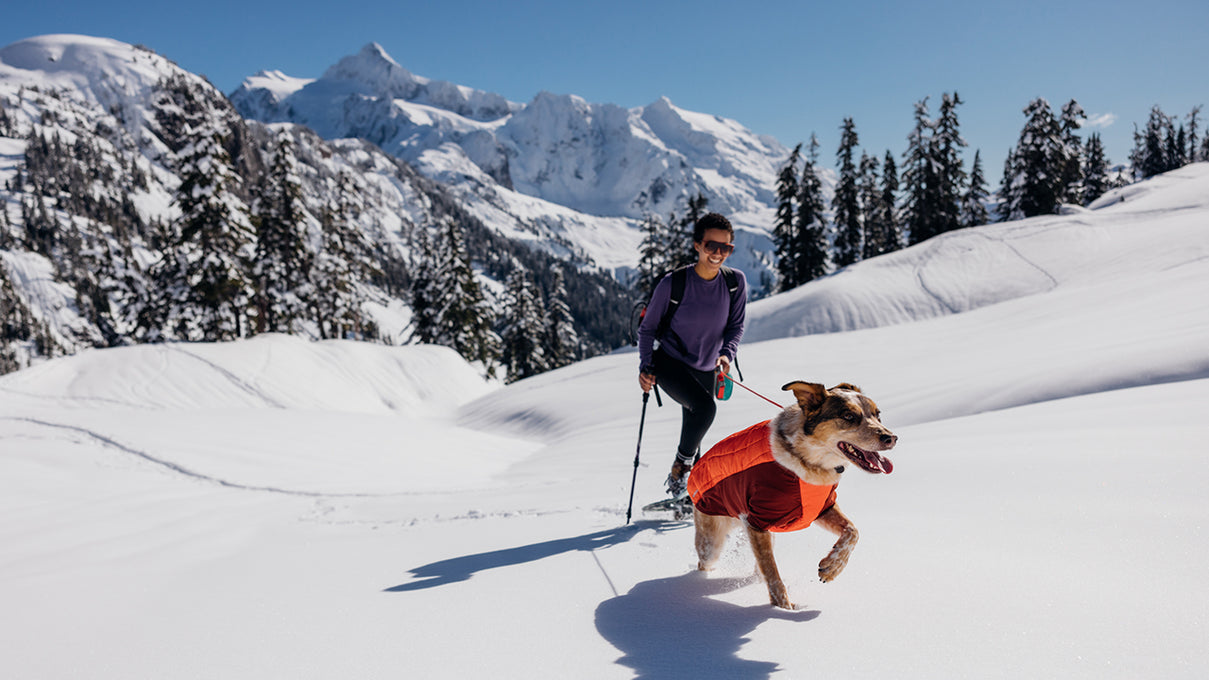 Top Tales For Snowsports With Dogs
The Scoop: Tips & Gear Hacks for Getting Outside with Your Dog This Winter

A little bit of motivation (and a few aha! gear recommendations) from the Ruffwear Pack to break free of the winter doldrums.

How To Ski With Your Dog

Riding in the backcountry can be one of the most fun activities you do with your dog. With proper planning and practice, you can share powder turns with your best friend.

Preventing Snowballs: The Ruffwear Way

For those of us who charge through winter with extra fluffy canine companions, preventing the uncomfortable snow build-up is crucial to keeping those carefree powder moments fun for everyone.
Frequently Asked Questions
Short answer: yes, dogs can get cold. While arctic breeds (huskies, malamutes) are wearing the equivalent of a high-end layering system, other breeds are wearing a t-shirt. Very young or very old dogs will feel the cold more than healthy adults, and very small dogs tend to get colder more quickly than larger ones.
Tip: do some short test adventures outside in early winter with your dog. You can get an idea of how comfortable they are outside in different temperatures, and what winter coats or winter boots for dogs might be beneficial for them.
Here are a few observations you can make to know if your dog is cold. Is their tail tucked up between their legs? Are they shivering or shaking more than usual? Are they lifting and holding their paws to avoid the ground? Their energy and enthusiasm levels can also be good indicators of whether they're feeling comfortable in the conditions.
Related: Read to learn more about cold-weather exploring and winter first-aid tips.
Every dog is different, as is everyone's definition of cold. Short-haired dogs, senior dogs, puppies, and small dogs in particular often benefit from a little extra help staying warm. Depending on your dog's fur type and their comfort in cold conditions (you know your dog best!) cold-weather dog gear like a dog jacket or dog boots can make the difference between getting outside for an adventure and staying home.
Again, every dog is different. If your dog has thinner fur or sensitive paws, winter dog booties may help provide protection against cold, ice, snow, and salt. If your pup tends to get snowballs stuck in their paw pads or between toes, winter dog boots can help. 
Related: Read to learn about our Polar Trex™ Winter Dog Boots and when and how to use them.
Dog coats and jackets with sleeves, high coverage, and lofty insulation offer more weather protection and warmth. Our warmest dog jacket is the Ruffwear Furness™ Jacket. 
Related: Read how the Furness™ Jacket was a game-changer for this small dog that loves adventuring with his human in the winter.